From Zero Hedge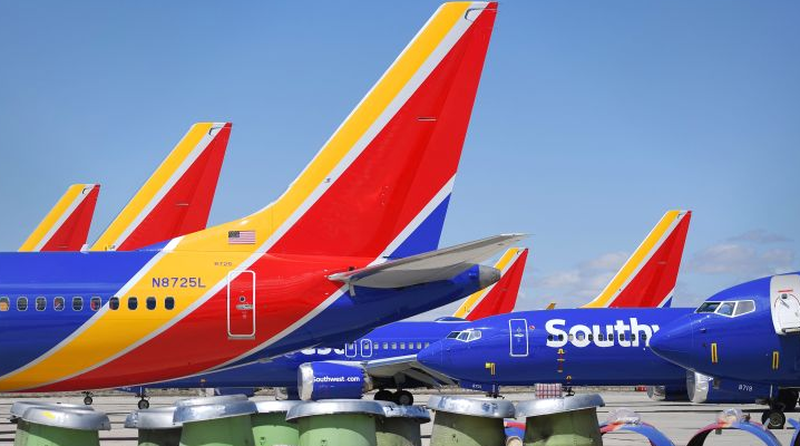 Southwest Ends Flights Out Of Newark Airport As 737 MAX Grounding Takes Its Toll
By Tyler Durden
When Southwest reported its earnings Thursday morning, it also made a stunning announcement that shows just how badly the 737 MAX 8's best customer has been hurt by the grounding.
Just as Boeing warns that it could halt production of the troublesome 737 MAX 8 if the plane's return to the skies is delayed any longer, Southwest Airlines, the 737 MAX 8's best customer, is reportedly planning to cease operations at Newark Airport. The decision is a direct result of the 737 MAX 8's grounding.
A representative for the airline said the decision is a "necessary step" to mitigate damages from the "extensive delays" in the recertification process for the MAX. The airline is planning to consolidate its New York-area presence at LaGuardia Airport in Queens, WSJ reports.
The airline is planning to cease operations in Newark on Nov. 3. The airline launched service out of Newark in 2011 and was recently offering 20 daily departures to 10 cities.
At the time of the Ethiopian Air Crash, the second of two crashes involving the 737 MAX 8 that killed a combined 346 people, Southwest had received 31 737 MAX 8s, more than any other airline, and it had orders in for nearly 250 more.
Southwest said its Newark operations have been performing below expectations, while customer demand for more flights out of LaGuardia is "strong." Customers will be offered options to change their travel plans, and Southwest employees will have the opportunity to relocate to other locations, including LaGuardia.
Because of the 737 MAX 8's grounding, Southwest expects its available seat miles, a widely watched airline industry metric of passenger-carrying capacity, to decline by 1% of 2% YoY in 2019. Before the grounding, it had anticipated capacity growth of nearly 5%.
As revealed following yesterday's earnings report, Boeing now expects the 737 MAX 8 will return to the skies either late this year, or in January 2020. According to CEO Dennis Muilenberg, Boeing expects to submit its "final certification package" to the FAA in September.
Shares of the airline tumbled 5% on Thursday in premarket trading after the low-budget carrier said it doesn't plan to fly the 737 MAX 8 again until next year. It has removed the MAX 8 from its schedules through Jan. 5. Its Q2 revenues came in slightly below estimates.