From Zero Hedge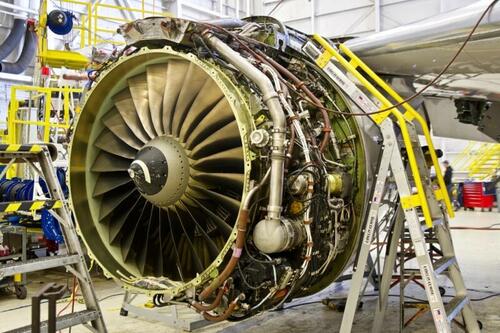 Fake Jet Engine Parts Supplied To Repair Shops For Older Airbus And Boeing Planes
By Tyler Durden
European aviation authorities have flagged a London-based firm for supplying "unapproved parts" for jet engines on older Airbus SE A320s and Boeing Co. 737s.
"Numerous Authorised Release Certificates for parts supplied via AOG Technics have been forged," the European Union Aviation Safety Agency wrote in a statement to Bloomberg.
London-based AOG Technics sold CFM56 jet engine parts to third-party repair shops servicing older A320s and 737s. EASA said the parts had certificates the manufacturer could not authenticate or confirm "they were not the originator of the part."
"Manufacturers and regulators sounded the alarm weeks ago, triggering a global scramble to trace parts supplied by AOG Technics and identify affected aircraft," Bloomberg said.
EASA said the parts with "falsified Authorized Release Certificate" were for CFM56 engines installed on older narrow-body planes. The regulator has told airlines to quarantine parts that potentially could have fake documentation.
"The documentation of parts is a very critical issue," said Klaus Mueller, a senior adviser at AeroDynamic Advisory and a former senior executive at MTU Aero Engines AG and Deutsche Lufthansa AG's maintenance arm.
Mueller said, "The industry is taking this topic very, very seriously."
This development is a significant headache for European airlines because how many parts with fake documentation AOG Technics flooded airlines with is still being determined.
Bloomberg said CFM International, the GE-Safran manufacturing venture of the engine, has alerted customers and shops about the fake certification documents and unapproved parts for the CFM56s.
EASA said if a part has falsified documentation, "then it is recommended that the part be replaced with an approved part."
Yet more headaches for airlines operating older A320s and 737s because finding fake parts on their aircraft will take time. It also comes as aircraft parts are in short supply.