From Bloomberg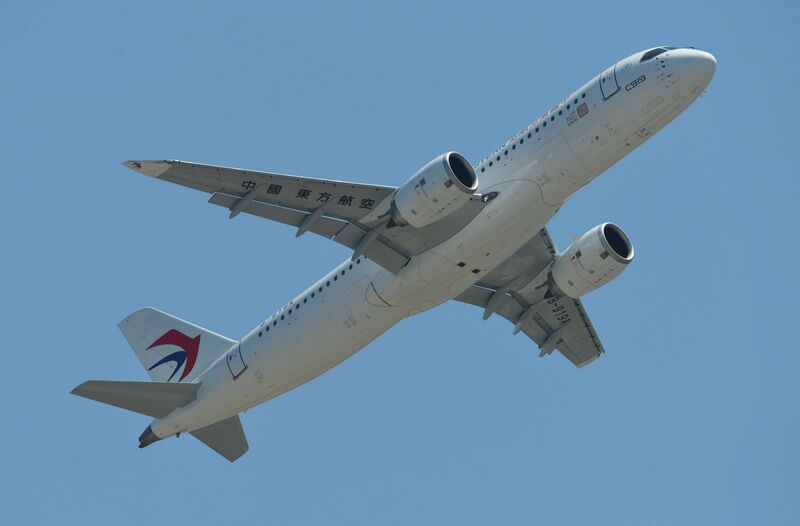 By Danny Lee
China Jet to Rival Airbus, Boeing Makes First Commercial Flight
A made-in-China aircraft to rival Boeing Co. and Airbus SE underwent its maiden commercial flight on Sunday, almost six months after being delivered to China Eastern Airlines Corp.
Flight MU9191 took off from Shanghai at 10:32 a.m. local time, China Eastern said on its Weibo account. The plane carried 128 passengers and landed safely at Beijing, People's Daily said in a tweet.
The commercial debut marks a long journey for Commercial Aircraft Corp of China Ltd., or Comac as it is better known. The manufacturer first starting developing the narrow-body airliner in 2008 and production began in late 2011. But it wasn't until September 2022 when the C919 received official certification to fly, marking the long end of flight testing and paving the way for Comac to start deliveries.
Read more: China Delivers First Homegrown Plane to Take On Boeing, Airbus
China Eastern is the C919's launch customer, with an order for five. After the first jet's delivery in December, the aircraft undertook a period of flight activities almost daily in order to satisfy a requirement for 100 hours of proving flights. But from Feb. 7 to May 17, China Eastern's C919 hadn't flown regularly for 104 days, FlightRadar24 data show.
China is angling to disrupt the dominance of Boeing and Airbus in commercial jetliner manufacturing. Both Airbus's A320neo family and Boeing's 737 Max jets have a full order book through to the end of the decade, meaning any carrier wanting narrow-body jets sooner may need to find an alternative.
Read more: China's Rival Aircraft to Boeing, Airbus Jets Wins Certification
Comac has garnered more than 1,000 orders for the C919, though the majority aren't confirmed and many are from Chinese aircraft lessors yet to place the jet with an airline.
Doubts remain over Comac's ability to fulfill those orders. The Chinese manufacturer is also reliant upon foreign suppliers including General Electric Co., Honeywell International Inc. and, for the engines, CFM International Inc. — a venture between GE and France's Safran SA.
Shanghai-based China Eastern, one of the country's biggest carriers, said on its earnings call last week that it plans to bring all five C919s into its fleet in 2023.
The C919 remains certified only to fly within China, however, while European certification remains ongoing. Each C919 costs around $99 million, before customary discounts to airlines.