From FlightGlobal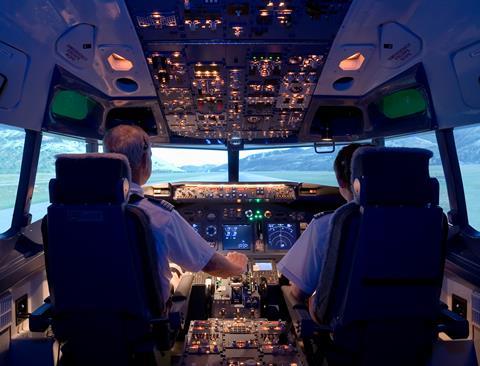 US House committee approves bill to hike pilot retirement age to 67
By Jon Hemmerdinger
A US lawmaking committee has approved a measure that would increase the USA's mandatory airline-pilot retirement age, spurring criticism from pilot unions and earning praise from regional airlines.
The US House of Representatives' transportation committee on 14 June approved the change, which would bump up the mandated retirement age of airline pilots in the USA from 65 to 67, according to reports.
Whether the measure, which passed by a narrow margin, will ultimately become law remains unclear.
It is part of a broader House bill to fund the Federal Aviation Administration after the agency's current funding expires in October. The full US House is expected to vote on that broader bill in July, the committee says.
Meanwhile, a US Senate committee is expected today to vote on its own version of the funding bill. The chambers must then negotiate to finalise a single law.
But increasing the retirement age has strong support from the Regional Airline Association, a group whose members say they have been particularly hurt by an industry-wide pilot shortage.
A two-year bump in the required retirement age "will have an immediate, positive effect for small community air service", the RAA says.
"Raising the pilot retirement age is the one solution that will have a near-immediate effect on the pilot shortage, allowing time for more long-term solutions to mature," says the RAA. "It's also the right thing to do for pilots who are today being pushed out of flight decks while they still have much to offer."
US regional airlines have said too few pilots have forced them to ground hundreds of regional aircraft and cut air service to smaller communities. In the USA, airlines have about 490 regional jets (including Bombardier CRJs and Embraer E-Jets) in storage, and 1,340 in service, according to Cirium fleets data.
Airlines for America, the trade group representing large US airlines, declines to comment.
But US pilot unions are raising alarm. The unions have also denied the existence of a pilot shortage, saying airline mismanagement and low pay are keeping carriers from filling their ranks.
In a 14 June letter to lawmakers, Air Line Pilots Association (ALPA) president Jason Ambrosi calls the retirement-age change "anti-union" and "politically driven". ALPA says the measure will worsen a pilot-training backlog, put the USA out of step with international standards and erode aviation safety.
"There is an increased risk of cardiovascular issues, diabetes and cognitive decline with increasing age. It is imprudent for Congress to impose its own view on safety," Ambrosi says.
The union, which represents pilots at numerous airlines, notes that existing ICAO standards call for retirements at age 65.
It says US pilots older than 65 years would be unable to fly some international flights, which are typically operated by widebody aircraft. As a result, such pilots would likely need to be retrained to fly narrowbody jets, which would "displace junior pilots" and create "a cascading training backlog".
The Allied Pilot Association (APA), which represents pilots at American Airlines, likewise opposes increasing the required pilot retirement age.
"Safety considerations drove the establishment of the current international standard of age 65 mandatory retirement, and raising the pilot retirement age would introduce additional risk into commercial aviation," says APA president Ed Sicher.