From Zero Hedge
The Most Flown Private Jet In The US Is...
By Tyler Durden
In a rapid shift in private aviation among millionaires, cent-millionaires, and billionaires, Textron Inc.'s Cessna Citation, the most popular and most flown private jet in the US, which held that record for 15 years, has just been dethroned.
Bloomberg reports new monthly flight data from the Federal Aviation Administration shows Brazil's Embraer Phenom 300, a medium-sized jet that seats around nine passengers, had 360,000 takeoffs and landings at US airports in the 12 months through August, 1,200 more than the Citation Excel family of jets.
Brian Foley, a private aviation consultant, said the biggest reason behind the surge in popularity of the Phenom 300 is fuel efficiency, which burns one-third less than the Citation Excel. He said cheaper fuel costs offset the Phenom 300's smaller cabin space.
For some context, at cruising speed, the two Pratt & Whitney turbofans of the Citation Excel burn around 225 gallons per hour of Jet A fuel.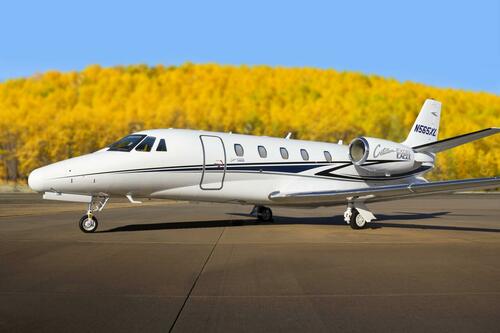 Meanwhile, the Phenom 300 is around 158 gallons of Jet A fuel per hour.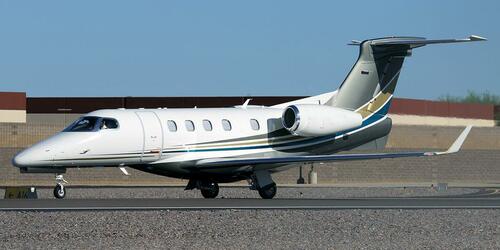 Even though Phenom 300s are being flown more, Cessna still dominates private jet deliveries.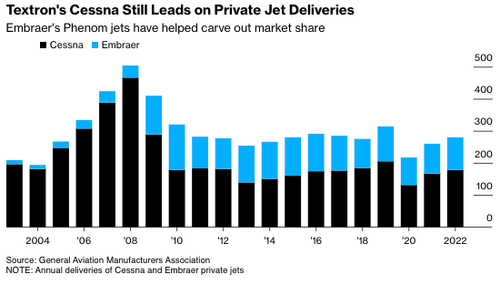 Textron told Bloomberg, "One of every three business jets worldwide is a Cessna Citation, and product upgrades like these continue to give customers new reasons to choose us for our proven performance, leading technology and unmatched cabin experience."
Despite the 'climate change' cheerleading, private jet demand soared to new heights in recent years, though mounting macro uncertainty and the highest interest rates in two decades led to a cooling in private jet flights earlier this year.