1 minute reading time
(219 words)
Airport Worker Hurt After Being Hit by Airliner
From Travel Pulse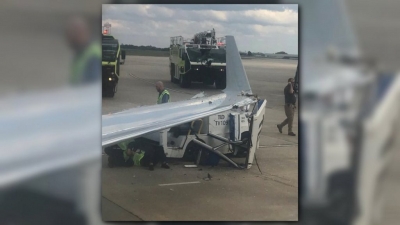 By Donald Wood
An American Airlines regional flight that landed at Charlotte Douglas International Airport struck a pushback tractor as it was being taxied to the gate, leaving the driver of the vehicle injured.
According to Fox Charlotte, American Eagle Flight 5233 arrived Wednesday in North Carolina from Yeager Airport in Charleston, West Virginia, when it started to taxi to the gate. At around 4 p.m. local time, the plane struck the tug near the north side of the E terminal.
None of the thirty-one passengers and three crew members on board the plane at the time of the incident reported injuries. As for the driver of the pushback tractor, he was taken to a local hospital where he was listed in stable condition.
The airport fire department and medical personnel were called to the scene and acted quickly to get the driver out of the damaged vehicle and to the hospital.
As a result of the collision, planes near Terminal E were not permitted to move until the investigation was completed. Passengers on departing and arriving flights were told to expect delays.
Officials from the Federal Aviation Administration lifted a ground stoppage at 5:26 p.m. local time and flights resumed. A short time later, the airport said it was "open and operational" on social media.