From Epsilon Theory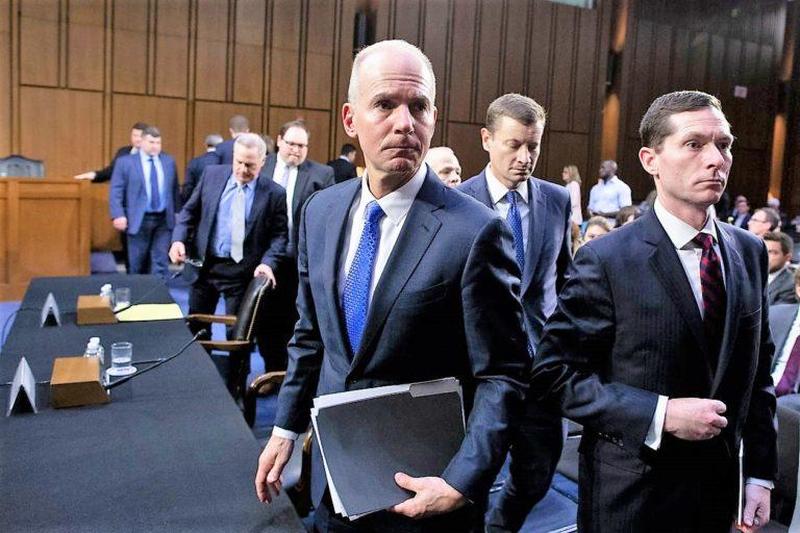 By Ben Hunt
Remember Dick "Gorilla" Fuld, former CEO of Lehman Brothers, who oversaw a criminal fraud conspiracy that went by the name of Repo 105?
Dick Fuld never saw a courtroom, much less a jail cell.
When was I radicalized?
When Dick Fuld walked away scot-free from Lehman with half a billion dollars in cash comp and stock sales during his tenure.
I thought of Dick Fuld today when I saw this picture and read this article.
Prosecutors Face Complex Path to Charging Boeing Over 737 MAX [Wall Street Journal]
To bring a successful criminal case against Boeing itself, prosecutors would have to show that executives repeatedly concealed or ignored the 737 MAX's engineering problems, experts said.

And there is a larger economic and political component: A corporate indictment and potentially huge sanctions must be balanced against the economic and national-security risks of incapacitating the country's second-biggest defense contractor.
The article is correct, of course. There's no way that the Justice Dept. will ever bring a criminal case against Boeing, not one that hits top management or really shackles the company.
And I know that Boeing said today that Muilenburg won't get a bonus or (more) stock grants until the 737 MAX is flying again, but this article got Radical Me thinking …
I wonder how much money Muilenburg and his management team and his board of directors have pocketed since he took over as CEO in 2015 and Chairman in 2016?

I wonder if executive compensation practices have changed over that span since … you know … Boeing started buying back nine billion dollars of stock every year?
Tell you what, I'll make it easy and I won't even count the cash compensation of Boeing management since 2016. I'll just stick to the direct value of the sterilized stock options they exercised and the restricted stock units they were vested. And I won't count any compensation of any sort here in 2019.
Over the 3-year period 2016 through 2018, Boeing management and directors pocketed $5.4 billion in exercised stock options and restricted stock units.

And by pocketed, I mean that $5.4 billion of the $25.2 billion in stock buybacks that you thought was a "return of capital" over that span was actually a USE OF CASH to either buy shares directly from management or mask the dilution of non-management shareholders.

In 2017 alone, the one good stock-performance year Boeing has had in a decade, $3.8 billion went to Boeing management and directors. That's 29% of cashflow from operations for the year. The board totally reconfigured their stock compensation system to accomplish that. You know, the board that Muilenburg took over the year before.

And as they say on Wheel of Fortune, once you buy a prize, it's yours to keep. There's no clawback here. There's no repercussion over the 737 MAX, either civil or criminal, for Muilenburg and crew. The only thing the 737 MAX debacle is going to make more difficult is for these same guys to pocket ANOTHER $5 billion.
And yes, some portion of this stock-based comp went to rank-and-file Boeing employees … I figure 5-10% is a good rule of thumb for most S&P 500 companies. But remember, I'm not even counting cash comp here. This is three years of stock comp for the management of an American icon of a company that had two so-so years and one really good year.
Is Muilenburg a billionaire from being a Boeing management lifer?
A guy who says his top management "insights" are:
"React quickly. Events can change everything. So must you."

"Know your team. What really matters to them, on every scale?"

"Chart the course. What should the next 100 years look like?"
I dunno if he's a billionaire yet. But he's gotta be close.
LOL.
Yeah, It's Still Water.
It's the greatest transfer of wealth in 100 years. Not to founders. Not to visionaries. Not to inventors. Not to entrepreneurs. Nope … to managers.
This is the story of every S&P 500 company over the past five years.
Oh yeah, one more thing for the "Yay, Stock Buybacks!" crowd.
Over the past 20 years, Boeing has NOT bought back stock in two of those years. That was way back in 2002 and 2003, back when the top management and board jobs were just a twinkle in Dennis Muilenburg's eyes.
Wanna guess what the total value of exercised stock options by Boeing management was in the years where they did NOT have stock buybacks to sterilize the issuance and so had straight shareholder dilution?
In 2002, with zero stock buybacks, the total value of exercised stock options was $31 million.

In 2003, with zero stock buybacks, the total value of exercised stock options was $19 million.

It was hundreds of millions in the years before that, when they had stock buybacks.

It was hundreds of millions in the years after that, when they had stock buybacks.

It is BILLIONS of dollars today, as Dennis Muilenburg cranks up the buyback machine to its current record levels.
I believe it is impossible to separate the modern management practice of self-enrichment through massive levels of stock-based comp from the modern management practice of investor placation through massive levels of stock buybacks … without regulating one or the other practice.
But I'm all ears for any ideas.